Imagine the last time you made love. Was it intense and exciting? Does it make you
tingle thinking about it? More than likely it was routine, maybe kind of decent, or
even downright awkward. Perhaps it has been so long you cannot remember? Your
sexual practices do not have to be this way. You can increase connection and
intimacy with your partner. If you are one of the lucky ones, then you are already
having beautifully profound encounters, and you want more. There is always room
to augment the hot sex you have.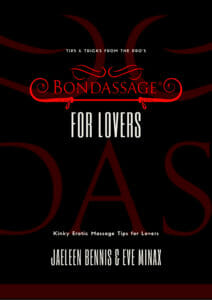 "Bondassage for Lovers ebook has opened up a whole new aspect of my sensual side. Teaching me the importance of the connecting."  Jenna
"Bondassage is genuinely a treat for me to share with my partner.  I love the vivid buffet of experience that it offers.  I integrate my own ideas and inspirations during play and feel like I'm orchestrating a truly beautiful voyage for my lover."  Greta
Written by Jaeleen Bennis & Eve Minax
Bondassage for Lovers is a perfect introduction to The Art of Bondassage.
If you would like to experience Bondassage, please go to our practitioner website.