BDSM – Five Myths About It – There is a lot of there's a lot of misinformation out there.
50 Shades of Grey may have us convinced that BDSM is mostly about handcuffs, blindfolds and getting tied up and spanked – but in truth, there's a lot more to it than that.
Sex, Love & Goop featured on Netflix in October 2021, helps introduce BDSM & kink to the as a vehicle for deepening your relationship.
It's time to bust the five main myths about bondage, domination, submission and masochism. Let's lay those stereotypes to rest once and for all, so you can understand what this world is really all about, and then decide whether it appeals to you or not!
Myth 1: All 'doms' are controlling and abusive
50 Shades received a lot of negative press from the way it presented Christian Grey pressuring the reluctant female lead into trying BDSM, and controlling every aspect of their relationship.
In actual fact, kink play is all about consensual experimentation, where both partners are equally willing, and clear boundaries are agreed right from the beginning. The book and the movie present a rather blurry and misogynistic picture of kink play – which is actually a long way from the truth.
In truth everybody loves something – some people enjoy being tickled, some people love a really good back scratch.
Myth 2: BDSM is a 'fetish'
BDSM is often labeled as a fetish, which paints a picture of it as something a bit weird or deviant – yet there are many different levels of involvement. Yes, some enthusiasts are into some of the more extreme forms of kink play – but many others are more than happy to play around the edges, experimenting only with light spanking, or dressing up, or sensation play.
The key is to find the right balance, and understand your boundaries, so that you only explore within your own particular comfort zone.
I remember speaking with a male client of mine, who loved wearing women's lingerie – he discovered he loved wearing lingerie when he was very young.  He loved Batman & Robin, and the only place he could his slinky batman outfit was from his mum's lingerie draw.  These days of course people can buy an outfit from Kmart – but back in the day, it was the lingerie draw.  His fetish developed through innocence & pleasure – and that is beautiful.
Myth 3: Most doms had abusive childhoods
Again, this is a stereotype perpetuated by 50 Shades, and it's presented as the main reason why Christian Grey enjoys controlling his subs.  Some people think that childhood trauma is the reason for the practice of BDSM, and the vast majority of enthusiasts are perfectly well-adjusted. They're just kinky because they enjoy exploring!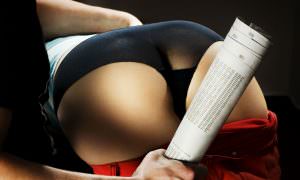 BDSM can be about consensual playfullness.
Myth 4: BDSM is mostly about pain
This is the main reason why most of us shy away from kink play – yet it's usually less about pain, and more about the power exchange and trust involved in exploring domination and submission. Yes, pain can be an ingredient, but the levels involved can vary dramatically, and most of the time, it's more about using heightened sensation to get adrenaline pumping through the body, rather than inflicting pain as the end goal.
Most importantly, even slight pain can be excluded from BDSM. Sometimes it's more about the thrill of anticipation – so when a flogger is used to stroke and tease rather than spank, that can be just as exciting for the receiver.
The fascinating thing about pain – is not the hurting of another, but the release of endorphins which the body releases when it has been hurt.  Now for some hardcore people it is about the pain, but for many it is about playing with the endorphin release.
Using a scale system, like 1 doesn't hurt very much and 10 is way too much.  You really want to sit around the 5 or 6 level of intensity.  You must also be really careful because what you think is a 5 might be a 10 for the receiver.  So your ability to communicate to each other what is happening.  And it is also critical to watch what is happening with the receiver's body – the colour of the skin or bodies involuntary movements or even the numbness and lack of movement are all indicators that something is happening.
Myth 5: Most men are doms and most women are submissive
This is another wholly inaccurate stereotype, and in actual fact, men are just as (and probably even more) likely to take the role of the submissive. Often, because men feel that they need to take the dominant role in every other aspect of their lives, it can be a fascinating experience to learn to surrender, and experience what it's like to play the opposite role within kink play.
Many women for example are tired of living in their masculine energy all the time, so for them to learn how to surrender and receive is an important tool for a healthy life.
And the same goes for men, they are expected to be tough, in control and have all the answers – so for them to surrender and not have to do anything but receive is also very good for them.
I hope that's cleared up some of the main concerns you might have around BDSM! If you'd like to experience a gentle introduction to kink play for yourself, why not book in for a Bondassage session with a skilled practitioner and discover more about this world for yourself.
Or you might like to explore our online class The Art of Bondassage.
'